Portrait Photographer – North Wales
Hello there, thank you for visiting Gill Jones Photography. I'm an Anglesey portrait and family photographer.
I've been photographing people for over ten years now, so you're in safe hands.
I hope to answer most of your questions here. Please scroll down to see my portrait gallery and then on to information regarding pricing.
If you think we're a fit then please contact me and we can get excited about your portrait experience.
If you are interested in a maternity photography session please follow this link HERE.
The following prices include your session with me. Your shoot may take 60 mins or 90 mins, it just depends on how comfortable you are with the process. You'll receive plenty of encouragement from me, infact that's my favourite part, I aim to get the best from you.
There are three packages for you to consider; a Print Package, a Digital Package and a bumper All Digital Package.
The Print Package allows you to choose prints to the value of £100. For example you may choose four 10 x 8's.
Please follow this link to see the PRINT PRICE INFORMATION
The Digital Package includes five digital downloadable image files of your choice. You're free to take care of the printing yourself this way.
The All Digital package would suit a reportage session. You may wish me to photograph your family at play. A game of rounders, skimming stones, playing cards, all yield beautifully relaxed images of a family at ease. I supply up to forty digital images on a USB.
You can purchase more digital images if you wish and these are £30 each.
print package
includes £100 worth of prints.
Digital image package
includes five digital image files.
All digital files package
includes up to 40 digital image files.
If you've invested in the All Digital image package why don't you add on a photo book too? Let me take the hard work out of this for you. I know we always promise to print our images, let me design and deliver a book with all of your images displayed inside.
Tick off the guilt trip, the job you keep meaning to do and let me deliver a record of your special times. 
You could even make a gift of it.
A photo book that displays 40 images is £75.00, a second copy is £50.
See the image below for an example.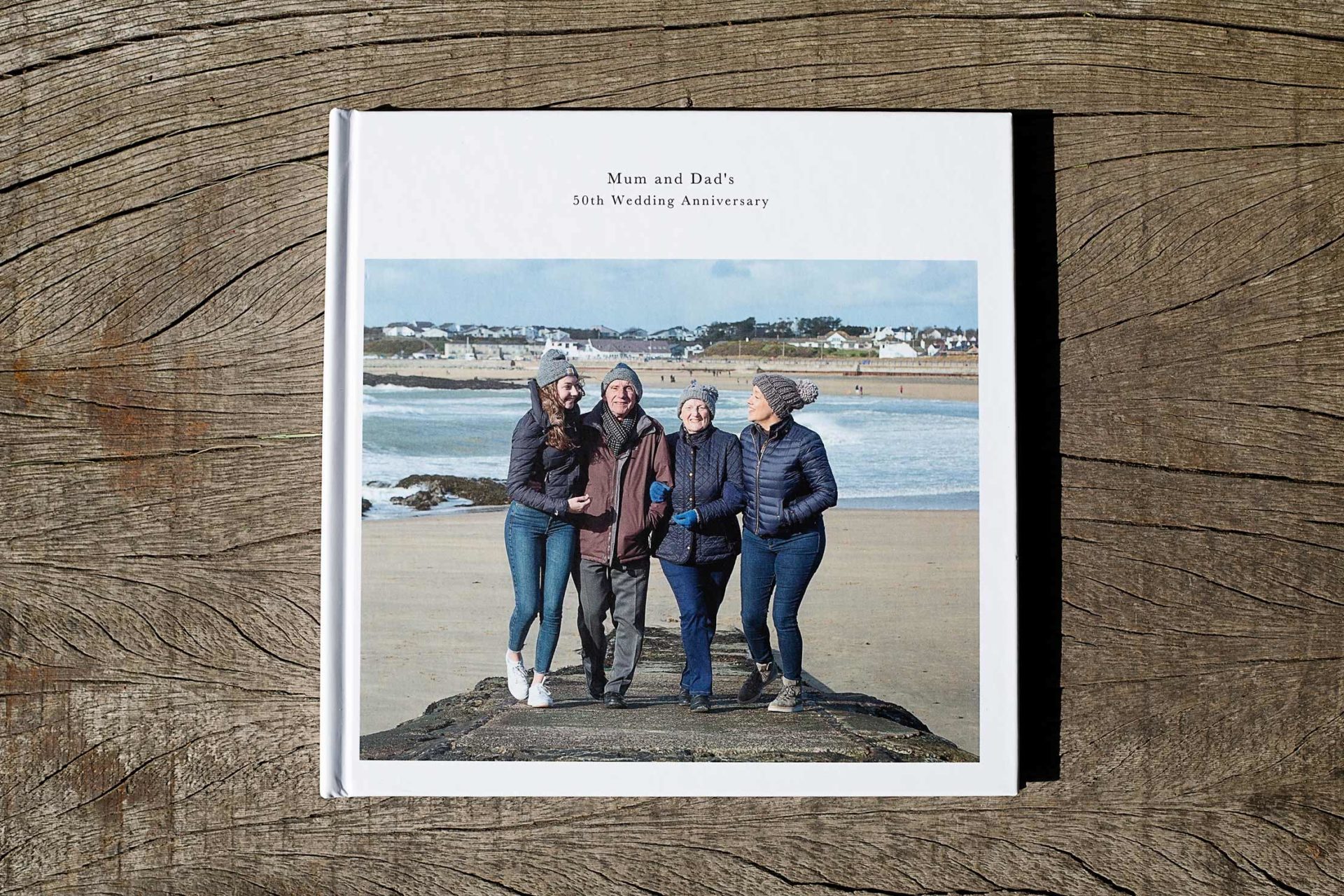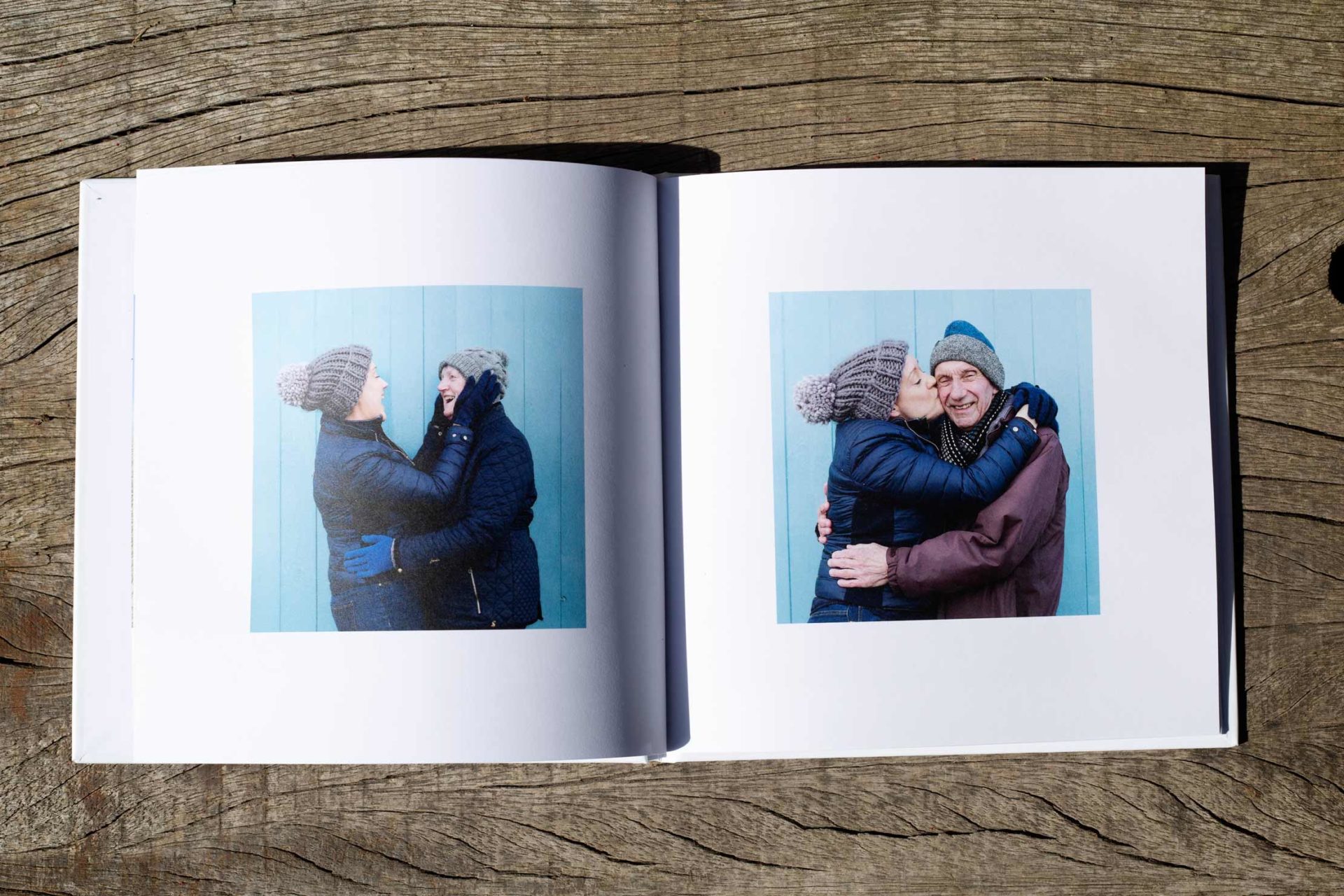 PORTRAIT Photography – North Wales 
A photograph in your wallet, on your mantlepiece, or tucked away somewhere safe; photographs are important to us. They remind us of happy times, wonderful people and the relationships that make our hearts burst.
I'm proud to be an Anglesey family photographer and I capture those fantastically funny, familiar faces in your life.
Let's face it, our photograph albums are the items we'd save if our house was on fire. Photographs are passed down through generations, becoming more important as the years fly by. So let me capture some bright, fresh, spirited images of you and your family. Let's tell your story.
There are a number of ways to go about this. You may like formal groupings of your favourite people. In contrast to this you may like some documentary style images of your family at play.
A family photo shoot can take on many guises. Tell me the essence of what you'd like to capture and then let me interpret this.
We're not all naturals in front of a camera and you might need a little coaching. I ask for authenticity. Nothing forced, but you might have to turn the volume up slightly; if you love that family member then hug them – hug them real close.
I photograph parties, anniversaries, holidays, milestone birthdays, new family members, teeny weeny family members.
Why not gift a session with me? A gift token is a great idea for someone who is turning a mile stone age.
If you're celebrating a significant anniversary, organise for me to be present at your party. That way all of your guests are captured and you are in shot all of the time instead of being behind the camera.
Most importantly I recommend printing your images. Don't leave them on a hard drive – let then breath. Pass them around, frame them, prop them up, make an album, savour them, post them, gift them.